OUR MISSION
ACCREDITED PROVIDER STATUS
TESTIMONIALS:
Launch Date March 2009:
"Visit Anaheim is proud of how involved our hotel and hospitality community is in the CTA program. Over the last 15 years, our partners have seen firsthand the value the program brings to their employees and to their business. Becoming a CTA continues to be a valuable piece of training for a variety of careers and roles throughout our industry."

Jay Burress, CTA
President & CEO
Visit Anaheim
Launch Date March 2013:
"We have always relied on our front line personnel throughout Columbia to be great ambassadors for our destination. The implementation of the CTA program has allowed us to ensure that everyone is welcoming and sending the same messages to the thousands of visitors we have every week. We've had people go through our program ranging from hoteliers to real estate agents and police officers to bartenders, and the feedback from participants has been enthusiastic. Being a CTA city gives us an advantage because we know our visitors are welcomed to our community and given an experience that is above and beyond their expectations."
Amy Schneider, CTA
Director
City of Columbia MO/Convention & Visitors Bureau
Launch Date August 2010:

"The CTA program is one of the most vital ways to keep our partners in hospitality engaged and educated to lead the highest level of experiences for our visitors and residents. Since 2010, we have clearly seen the value of the CTA program."
Julie Pingston, CDME, CMP, CTA
President/CEO


Greater Lansing CVB


<![if !supportLineBreakNewLine]>
<![endif]>
The Certified Tourism Ambassador™ Program – CTA™
---
Administered through the Tourism Ambassador Institute®, the Certified Tourism Ambassador™ (CTA) Program is a certification program that serves to increase tourism by inspiring front-line hospitality employees and volunteers to work together to turn every visitor encounter into a positive, memorable experience.
The premise is simple: If front-line employees and volunteers (those who come into immediate contact with the visitor) provide quality service to visitors (convention attendees, visitors, business travelers, etc.), the visitor is more likely to have a positive experience. Visitors who have a positive experience are more likely to return at some point in the future. They will share their perceptions with their friends. Everyone benefits – the tourist, the hospitality industry, the local economy and, most importantly, the front-line ambassador.
Upon completion of all program requirements, front line employees and volunteers are awarded the Certified Tourism Ambassador™ (CTA) designation and may use the initials CTA™ behind their names, i.e., John Smith, CTA. The designation is conferred by the Tourism Ambassador Institute® (TAI®) in cooperation with a Convention & Visitors Bureau (CVB), Destination Marketing Organization (DMO), or other tourism entity. These organizations agree to uphold certain standards of practice as a TAI Accredited Provider in order to ensure a high level of program quality over time. Those achieving the CTA designation would be expected to participate in continuous learning activities in order to be re-certified on an annual basis. This certification component strengthens the program in the eyes of the front-line workers and their employers and, as such, has lasting value over time to a city, region, and the nation as the program grows from city to city.
Benefits of the Ambassador Program
The beauty of the CTA™ designation is that it provides front-line employees and volunteers critical training that helps improve their attitudes and their performance. It gives them a chance to meet one another, learn from each others' experiences, and celebrate together. All of this strengthens the program over time as the program matures.
The benefits are numerous and build on each other, which creates a Benefits Cycle, as follows: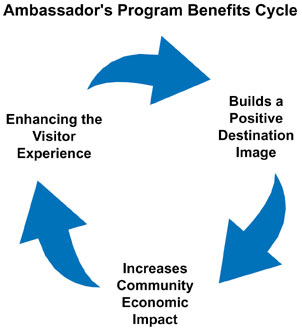 This exciting, ground-breaking program has many features that translate into a wide variety of benefits that permeate, and elevate, the entire hospitality and business community.
The concept of tourism ambassadors is not new to the industry. Several cities in the U.S. and Canada have implemented some form of an ambassadors program. These current and past programs range anywhere from downtown ambassador programs that answer visitor queries and monitor safety and cleanliness, to programs for cab drivers where their license to operate is contingent upon completing formal customer service training.
One of the critically important differences between the Certified Tourism Ambassador™ Program offered by the Tourism Ambassador Institute® and these other training programs is that our program will lead to full certification as a Certified Tourism Ambassador™. Certification, unlike training, provides lasting value to the industry and the visitors and tourists it serves.
---
Aligning to a Destination's Vision
Destinations continually strive to bring visitors and tourists to their area. The CTA™ Program is a natural fit to bring together a myriad of objectives. The Certified Tourism Ambassador™ Program:
Unites Front-Line Employees and Volunteers – Brings front-line ambassadors together to achieve a common, shared goal of enhancing the visitor experience.

Increases Overall Convention & Tourism Business – An enhanced visitor experience leads to more frequent visits and better word-of-mouth about the region, which can lead to additional convention and tourism business.

Increases the Economic Impact of Tourism – Not only will additional tourism result, but visitors are likely to spend more on each visit if they are directed by ambassadors to venues that match their interests (food, attractions, shopping, entertainment, etc.).

Builds a Positive Brand and Overall Destination Image – If every experience is a good experience, the city will continue to shine in the eyes of the public making it easier to sell the city to decision makers, such as meeting planners, tour operators and boards of directors. In short, it strengthens brand awareness and top-of-mind perceptions about your area, while the ambassadors deliver your Brand Promise.

Builds Upon Regional Collaboration – Gives your region a common, collaborative project that will help reinforce the importance of working together, instead of apart, to enhance regional tourism.

Builds Public and Private Partnerships – Brings key corporations and hospitality organizations (museums, attractions, venues, etc.) together to support a program of critical importance to the future of tourism. It may also help local corporations recruit and retain top talent.

Enhances the Current "Product," While Building the Future – Telling visitors about the exciting things that are on the horizon will help drive future business and motivate the Ambassador corps. These shared learning experiences will help to ensure that visitors hear a consistent story about the attributes of your region.
In short, the program has many features that translate into a wide variety of benefits that help strengthen the entire hospitality and business community.
---
The Body of Knowledge has been developed through extensive research and field testing. Comprised of four modules, the Body of Knowledge covers the important elements of tourism, regional attributes/attractions and customer service. Learning objectives drive the learning experience and provide participants with a very clear idea about the most important learning outcomes in each Module. Sometimes, these objectives are written to: (a) describe facts the CTA candidates are expected to know; (b) describe principles or concepts that are important in the hospitality and tourism industries; and (c) describe an attitude or specific behavior (performance) that is expected of the Certified Tourism Ambassador.
---
The CTA Program has been designed to be customized to meet the needs of each Accredited Provider, while staying true to the established curriculum or Body of Knowledge. The TAI works with the Accredited Provider through six important phases:
Phase One – Research & Planning
Phase Two – Customized Program Development
Phase Three – Field Testing
Phase Four – Train the Trainer
Phase Five – Program Roll-Out
Phase Six – Ongoing Program Management
A variety of customization options are available to fit the needs and budgets of organizations of any size. Contact the TAI for more information.
---
What's in it for the front-line employee or volunteer?
Provides you with a meaningful credential that is visible to visitors, friends and family (John Doe, CTA)

Increases your company's business, which may mean increases in compensation

Builds skills you'll have for a lifetime

Helps bolster your resume to show to prospective employers

Supports your career development

Helps you network with – and learn from – your peers across the region

Helps you stay "in the know" with regular updates
Certification requirements will be established on an annual basis by the Tourism Ambassador Institute® (TAI). A front-line employee or volunteer who aspires to become a CTA™ is required to complete these requirements in order to earn the designation and be authorized to use it. The Accredited Provider, on behalf of the TAI, will evaluate whether each candidate has satisfactorily:
Completed the required reading and pre-class exercises

Demonstrated active participation in all classroom exercises

Completed all assignments

Earned a passing score on the CTA examination

Demonstrated a commitment to becoming certified as a CTA and to re-certifying annually
CTA Recertification Requirements
This program has been established with initial certification followed by re-certification annually thereafter. The annual certification renewal requirement ensures that CTAs are kept up-to-date on important new developments and that they participate in continuous learning in subjects comprising the CTA™ body of knowledge, especially regarding new developments in their city/region.
Recertification requirements will be established on an annual basis by the Tourism Ambassador Institute® (TAI). The Accredited Provider, on behalf of the TAI, will evaluate whether each CTA has satisfied the recertification requirements. To renew certification, CTAs must have earned a specified number of points during the preceding 12 month period. Points may be earned by:
Participating in Planned Ambassador Events

Attending relevant conferences, workshops, seminars, etc.

Visiting Area Attractions and Venues (restaurants, museums, festivals, etc.)

Learning about New Developments

Staying Current With and Using Available Resources
Recertification also ensures that the program maintains momentum and evolves over time to meet the needs of CTAs and visitors.
CTA Identification and Recognition
Upon successful completion of the Certified Tourism Ambassador™ Program requirements, successful candidates may begin using the CTA™ designation behind their names. They will also receive:
A certificate, suitable for framing, showing their designation as a CTA

A pin identifying them as a Certified Tourism Ambassador

CTA "Rewards", such as discounts at participating restaurants, attractions, etc.
CTAs are expected to assume the responsibility of strengthening the status of the designation in the eyes of their employer and their city/region by:
Continuing their education at every opportunity

Enhancing their product knowledge – the city's restaurant, attractions, and everything else a visitor may want to do or inquire about.

Taking advantage of discounts or free offerings from participating supporters to experience their "product" and in order to be able to recommend it first-hand to visitors.

Celebrating their achievement with their co-workers

Maintaining their credential on an annual basis by completing re-certification requirements

Encouraging their colleagues to become CTAs

Having fun!